Irresistible women, mysterious and seductive vamps, determined rebels, contemporary amazones...
Xarah von den Vielenregen (Boudoir Noir) presents the Femme Fatale Cabaret:
get attracted by an aura of charm and mystery, timeless style and beauty.
Get your little black dress out of the closet and celebrate with us sensual & powerful seduction!
Femme Fatale has always been an archetypal character of literature, art and film.
The original meaning of a "femme fatale" is at least as old as humanity itself.
The symbol of a seductive, immoral female figure first appeard in the primal story of Adam and Eve.
The femme fatale motive runs like a golden thread in various literary works
(Loreley by Heinrich Heine or Oscar Wilde's Salome) to the conscious,
vital personification in a number of film works:
This myth already appeared in the silent film era from the 1920s.
Actresses like Theda Bara, Gloria Swanson and Marlene Dietrich served as cinematic mothers
who broke with the conventional stereotypes of one-dimensional, needy women with dependence on the man,
b y showing more depth and sophistication.
The peak of the personification of a strong woman was reached in the film noir era from the 1940s
in which the term "femme fatale" was officially recognized as the epitome of
a manipulative, cold-blooded and sexual self-determining attitude.
Probably at no other time in Hollywood have more profound women's roles ever been created.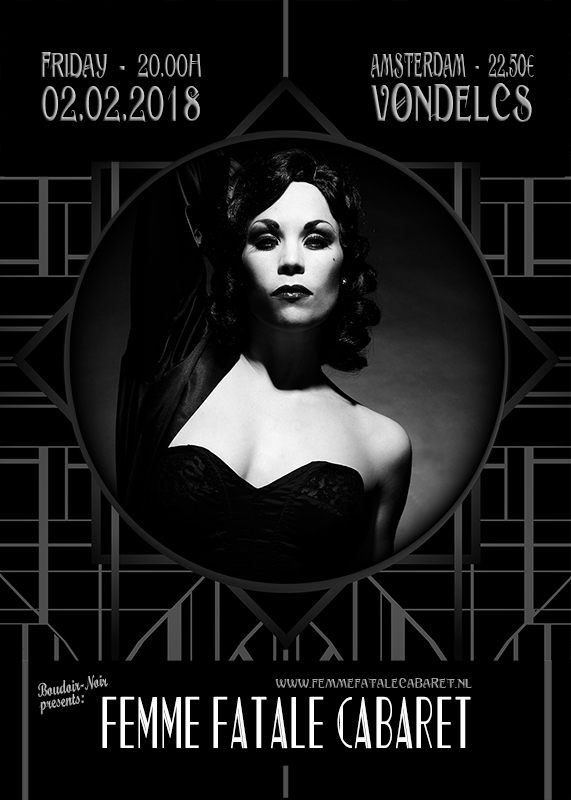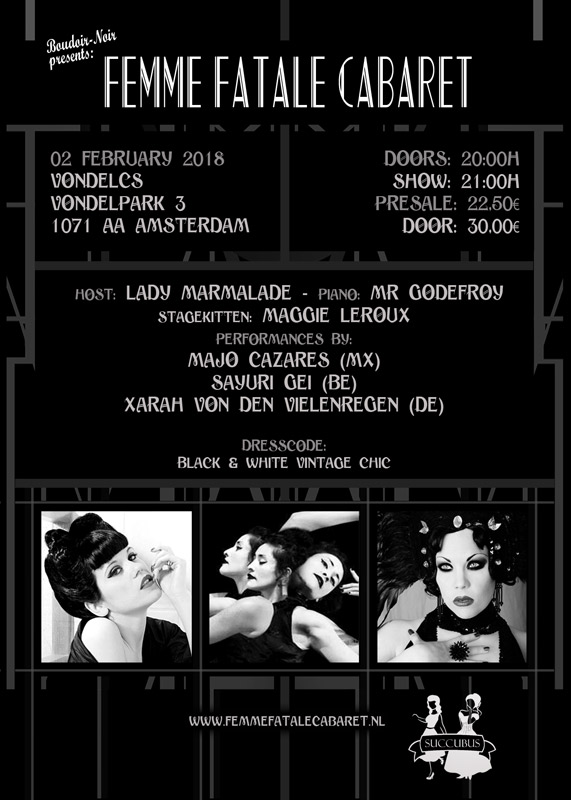 Onweerstaanbare vrouwen, mysterieuze, verleidelijke vamps, vastberaden rebellen, amazones van deze tijd…
Xarah von den Vielenregen (Boudoir Noir) presenteert Femme Fatale Cabaret: wordt verleid door een aura van charme en mysterie,
een stijl en schoonheid ongebonden aan tijd.
Trek jouw 'little black dress' uit de kast en neem deel aan dit feest van verleiding!
De femme fatale heeft van oorsprong een invloedrijke rol in de literatuur, film en kunst.
Haar aanwezigheid is zo oud als de mensheid zelf.
De femme fatale als symbool van verleidster loopt als een gouden draad door diverse literaire werken
(Die Loreley van Heinrich Heine, Oscar Wilde's Salomé) en is een onmisbaar personage in de filmgeschiedenis.
Actrices uit de jaren '20 als Theda Bara, Gloria Swanson en Marlene Dietrich braken met het stereotype van de eendimensionale behoeftige vrouw
door rollen van meer ontwikkelde vrouwen op zich te nemen.
Tijdens de bloei van de klassieke film noir vanaf de jaren '40, bereikte de belichaming van de femme fatale haar hoogtepunt.
Op het witte doek maakte zij furore met haar manipulatieve, koelbloedige houding en haar seksuele onafhankelijkheid.
Nooit eerder was er in Hollywood zo'n uitgesproken rol voor vrouwen weggelegd.
www.facebook.com/TheFemmeFataleCabaret